And so the story...
While this fits into our Tiny Treats category, there is nothing tiny about its presence. Beautiful green aventurine gemstone is partnered with clear crystal in this pendant. The green aventurine is so soothing – measuring about one inch in diameter. (No, I know it isn't a circle but the shape just calls for a diameter measurement! So, geometry teachers be kind!) The clear quartz bead measures about ¾" in length and the long facets reflect light in an interesting way. The multi-faceted Czech Jablonex fire-polished round bead is the perfect partner for the green aventurine and clear crystal quartz. The 10mm ring that holds all the gemstones together is a good size to slip on a chain or a cord – knotted or simply slipped through the ring.
The cord shown here is not included in the cost of the pendant; but it is available in the Charms & Chains section on the site. So take a little trip there and perhaps you'll find the perfect complement for this pendant or others you have.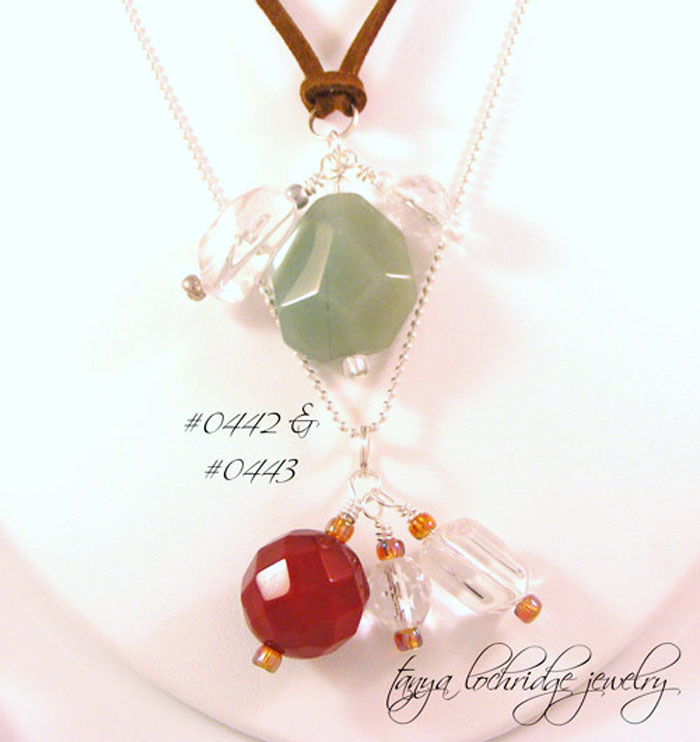 Handmade in the USA using domestic and imported components. From the Tanya Lochridge Jewelry Trunk Show Collection.