And so the story...
This, my friends, is a beauty. And, to tell you the truth, I had a hard time deciding whether to post it on the site or not; but post it I did. It started when I first saw these aqua silver-foil lined lampwork beads many months ago. Sadly, the vendor only had a few in this color and, luckily, I snapped them up. The one-inch square beads make me think of Caribbean waters when the sun reflects off the ripples. The water dances with light as do these glorious beads. (Do I sound like I should be writing for the J. Peterman catalog which, now that I think about it, doesn't exist any longer…or does it?) And if that isn't enough, the soft rope component of this necklace, which has become a favorite among all of my collectors in the bracelet category, is the perfect complement.
The turquoise and glistening shades and textures of clear and silver Czech glass are stunning – especially when combined with the silver-plate pewter end caps and links. Pumping up the glisten a tad more are 12mm chiseled clear Czech glass beads – the best quality available. But wait…there's more. Gray baroque ringed 11mm to 12mm freshwater pearls add a hint of mystery to the overall piece. Finishing off with an oversized matte silver-plate oval chain and a large sterling silver s-hook clasp gives you the opportunity to wear the 36" piece at various lengths. When worn at it's full length the overall look is asymmetrical -- which I love. The image below gives you an idea of how the necklace looks wrapped to make an 18" double design. As it stands right now, this necklace is truly a one-of-a-kind – so if you like the idea of having your personal jewelry designer, than this is the necklace for you.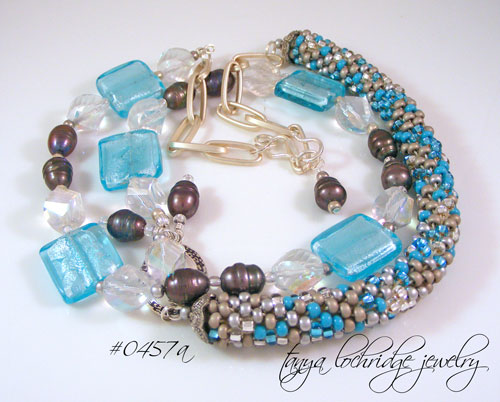 Handmade in the USA using domestic and imported components. From the Tanya Lochridge Jewelry Trunk Show Collection.