The Real Deal -- Real Gemstones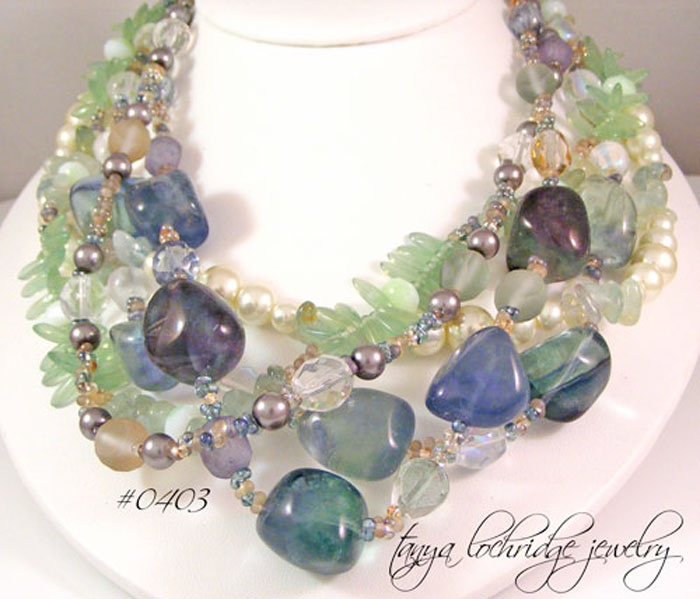 Longing for agate, kyanite, pietersite, bronzite, rhyolite, sodalite, jaspers, mookaite, lapis, turquoise, chrysocolla, charoite, lepidoliate, fluorite, green aventurine, red aventurine, smoky quartz, clear crystal quartz (also called rock quartz), rainbow hickoryite, sardonyx, labradorite, amethyst, milky aqua, Russian amazonite, pyrite quartz, rutilated quartz, rhodocrosite, jade, carnelian, Botswana agate, chalcedony, mother-of-pearl and freshwater pearls? Do you love jewelry designs that are bold while being a bit more feminine than usual? Jewelry that is sophisticated in a unique sort of way and always oh-so-wearable? Stop...my head is spinning!
Well, if you answered yes to all those questions, there's a good chance you'll find what you like right here. It's no secret -- I am drawn to rocks and minerals from the earth and about eighty percent of my jewelry designs incorporate real gemstones in some way, shape or form. But, there is one big difference with my designs. The difference is that I like to mix it up a bit, step away from the expected and toss fabulous gemstones with beautiful Czech glass and just see what comes from the adventure. In case you wondered, all pieces are hand-assembled right here in my studio in Oregon.
Just an example -- crystal quartz and gold vermeil play really well with Czech glass beads in this bracelet...don't you think? Thanks for coming around and taking a little look-see...you're always welcome you know. And, as designs are added frequently, make sure to bookmark and check in often. I'm happy and so grateful you are here.